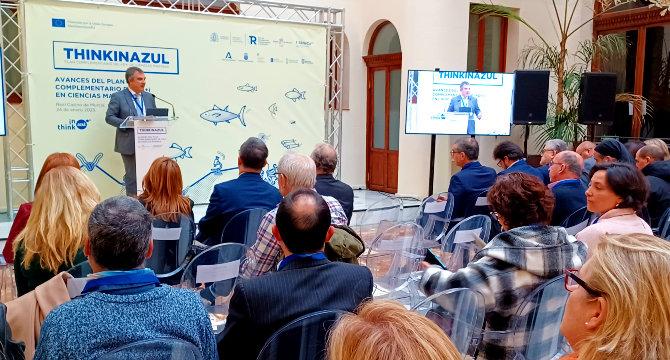 06 Sep

National Meeting of "ThinkInAzul" Plan: Joining Forces for the Conservation of Marine Ecosystems

Last January 24, the Real Casino de Murcia became the venue for the national coordination meeting of the Complementary Plan for R+D+i in Marine Sciences, known as "ThinkInAzul". This event, organized by the Directorate General for Research and the Seneca Foundation, brought together the scientific coordinators of the participating communities: Galicia, Cantabria, Valencian Community, Murcia, Andalusia, Balearic Islands and Canary Islands. The main objective of this meeting was to foster collaboration and synergy among the regions to address common challenges, such as the protection of marine ecosystems in the face of climate change and the promotion of sustainable aquaculture, fisheries and tourism.

During the meeting, the coordinators presented the structure of their respective regional projects, highlighting the entities involved and the progress achieved in each region. In addition, a roadmap for the year 2023 was outlined, which will serve as a guide for achieving the plan's objectives.

The "ThinkInAzul" project has total funding in excess of 50 million euros, from both the Ministry of Next Generation Funds and the autonomous communities. This model of co-governance will enable greater coordination between the regions and the central administration, promoting more effective alignment with science policies at the international level.

This national meeting marks a milestone in interregional collaboration and joint commitment to preserve our valuable marine ecosystems and address the environmental and economic challenges facing the scientific community and coastal regions of Spain.