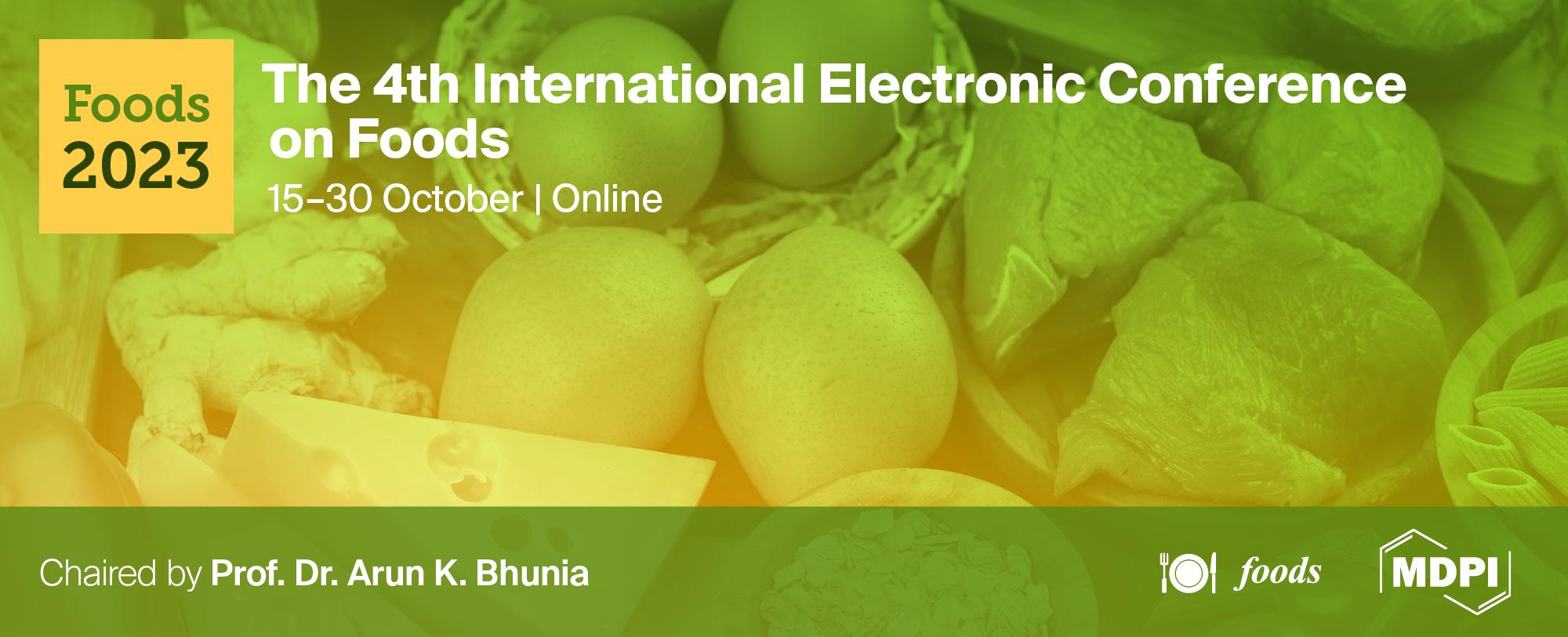 02 Oct

The 4th International Electronic Conference on Foods

The 4th International Electronic Conference on Foods

Todo el día
octubre 15, 2023 – octubre 30, 2023
Welcome from the Chair
Dear Colleagues,
Following the previous successful meetings of the Electronic Conference since 2021, it is a great pleasure to announce that foods will host the 4th International Electronic Conference, "Focus on Sustainable Food Systems: Current Trends and Advances", which will be held during 15-30 October 2023. This conference will provide a great platform to discuss the challenges and opportunities facing Sustainable Food Systems.
The food system is a comprehensive and complex network, which includes all the industries involved in food production and processing, their interlinked value-added activities, and the parts of economic, social, and natural environmental sciences. Sustainable Food Systems mean economic sustainability, social sustainability, and environmental sustainability based on human nutrition and food security embedded in the food system.
A sustainable Food System is part of the United Nations' Sustainable Development Goals (SDGs) and one of the key goals of sustainable development in the world. During the COVID-19 pandemic, Food Systems faced significant global and regional challenges. The Food and Agriculture Organization of the United Nations (FAO) put forward The Four Betters: Better Production, Better Nutrition, a Better Environment, and a Better Life, which reflect the interconnected economic, social, and environmental dimensions of agri-food systems. Therefore, we need more innovations in the sustainable food system, focusing on the following sections:
S1: Food Security and Sustainable Food Supply (with special emphasis on Agri-Food & Food Industry, pandemic, COVID, supply chain, societal elements, etc)
S2: International Trade and Food Economic
S3: Food Sensory and Consumer Choices
S4: Food Physical and Structural Property
S5: Food Chemistry and Biochemistry
S6: Food Analysis, Biotechnology, and Engineering
S7: Food Quality and Safety
S8: Food Microbiology
S9: Functional Foods, Nutrition and Health
We look forward to welcoming you to this e-conference. We hope that more scholars in various fields related to Food Systems can participate in this platform to share and discuss the most cutting-edge research development of Sustainable Food Systems in the world.
Best wishes,
Prof. Dr. Arun K. Bhunia
Chair of Foods2023
Important: Please kindly note that there are no registration fees for this conference as it is free of charge.
For more information click here